All of a sudden, I am off to Ireland tomorrow. Just like that! One of my best and dearest friends is over from the States, and it would be madness not to go and see him while he is so near. Frugality be damned! Friends matter more. And while a two-day trip to Ireland is costly, it is a lot less costly than a flight to the US.
I can move fast when I have to! A quick exchange of emails established that tomorrow and Saturday suited us both best. Within 20 minutes of getting his message, I had travel and accommodation booked, and I am all set to depart at a horrifyingly early hour tomorrow morning.
For travel, there were four options. I have flown with Flybe from Edinburgh to Belfast City before, and it is quite reasonable, but at this late date there was nothing under £100 return. (EasyJet flies to Belfast International, but it is MILES out of town.) Meanwhile, the trains are messed up at the moment with flooding - the Train Line tells me there are none at all, though who knows if that is true.
The most obvious option therefore seemed to be to pick up the car from its temporary home at a friend's and drive from Edinburgh to Stranraer. That journey takes three and a half hours, whereupon I would leave the car in Stranraer, take the ferry as a foot passenger, and then a train or bus at the other end.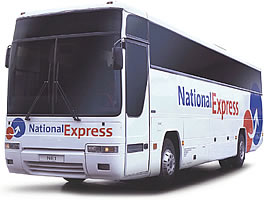 However, I was determined not to repeat the Great Newcastle Train Fail. I did some googling, and established that a National Express bus ticket to Belfast, including the ferry, costs
less
than a foot passenger ferry ticket alone. That's even before you factor in petrol costs (about £40-£50 worth, I reckon). The full return bus ticket including ferry costs
£52
; a return foot passenger ticket for the ferry alone is
£56
. It would actually be cheaper to fly than to drive. It is madness, but there it is.
So I will be taking with me a bottle of water and grabbing a couple of slices of the quiche out of the freezer for my breakfast and lunch combined. I really do need to invest in a thermos flask, as coffee would have been nice at such an early hour. But apart from that, I am all ready to go.
Signing out now to get what little sleep I can. I'll see you in Ireland tomorrow. Good night xx
Total Daily Expenditure:
£89
(includes one night's B&B accommodation)