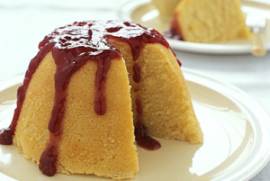 The end result should look something like this!
Traditional pudding recipes ask you to cover and steam a pudding for about 1-2 hours. Unless you have an Aga or something that is on anyway, this takes a great deal of fuel. I suppose it could be done in a modern steamer - it might be worth a go. However, I discovered some time ago that your basic "steamed pudding" also cooks beautifully in the microwave in only 3 minutes.
This recipe is adapted from one of my most useful baking books: The Anniversary Cook-Book (sic) of the Dumfriesshire Federation SWRI. That's the Scottish Women's Rural Institute to you and me, or simply, "The Rural". The cookbook was a long-ago gift from an aunt, and what The Rural doesn't know about baking isn't worth knowing.
This recipe is easily halved.
serves 4-6
Ingredients
2 eggs, and their weight in margarine and sugar
5 oz self-raising flour
3 tbsp raspberry jam
Method
Cream (beat together) the margarine and sugar until light and fluffy.
Add the beaten egg and the flour alternately to the creamed mixture.
Cut 1 tbsp of jam through the cake mixture, but not really mixing. (you can omit this, and save a spoonful of jam)
Put the other 2 tbsp jam in the bottom of a greased pudding bowl. Spoon the cake mixture on top.
To Steam: cover with greaseproof paper (make a fold in it to allow for expansion, and secure with string or an elastic band). Steam for one hour.
To Microwave: cover with clingfilm or simply a plate, and microwave for 3 minutes only.
To serve, loosen the edges with a knife, then turn out onto a plate so that the jam drips down the side. To achieve the heights of true comfort food, serve with custard!